Cash Waiting for the Following Items: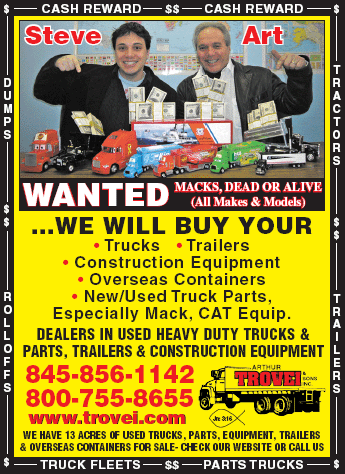 Wanted: Trucks, Trailers, & Machines. Cash waiting. Buying straight trucks with DT466 motors, 3208 Cat engines. Buying all kinds of single axle and tandem axle trucks from 1980-2011! Will buy 1 to 50. Need them now! Call today! (Click here to download a form)


Wanted: Mack trucks dead or alive! All kinds: DM, CX, R, MR, MH, CH, & Superliner! All years! Top $ paid!


Wanted: Dead or alive! truck motors, transmissions, rears, tires, & rims.


Wanted: Buying all kinds of construction equipment, bucket loaders, dozers, forklifts, dump trailers, loose truck parts, job surpluses, trailers, etc. ESPECIALLY: Caterpillar, Case, John Deere, & Komatsu. Cat 930 & 950 loaders.


Wanted: Late model wrecks, hydraulic and air brake passenger buses with standard transmissions all makes and models, Mercedes, GMC Forwards and all foreign trucks.


Wanted: Scrap prices are up! Bring us your steel, cast iron, tin, appliances, copper, brass, stainless steel, and aluminum and go home with instant cash!


We pay you to find inventory. That's right we are willing to pay you to scout for trucks. We pay finders fees for any trucks or equipment we purchase from leads you give us. For each piece we purchase from your lead, we will pay you $100. All we need from you is the following:

(1) general information on the piece [year, make, model, and type are all useful]
(2) contact name and phone number
(3) your name and number

That's it! Just three easy steps (and hopefully you already know step 3!) You don't have to do any of the negotiations or lay out any of the cash. Just find the trucks and give us the information. And, don't forget, that's $100 per each piece! So, if you track down a ten truck deal, that's a cool grand in your pocket for just finding a name, number, and basic info. Sound good? Yep thought so. Now, get out there and start lookin'!